About Our Olive Grove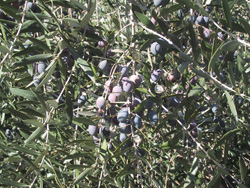 Tucked away in a beautiful cranny in the Napa Valley is a microclimate perfectly suited for growing delicious, fruity, rich, pungent olive oil. This is where Bill and Roxanne have chosen to locate the AlphaWOLF Vineyard and Olive Ranch.
This estate, extra virgin, unfiltered olive oil comes from 300 Tuscan varietal olives (second generation from Italy) which were planted in 2000. The varieties of Frantoio, Lecchino, Pendolino, Coratina, Maurino and Taggiasca have a history, in Italy, of making some of the finest oil in the world. The warm days and cool nights bring out that fruity flavor and peppery finish. The sustainable farming practices and hand picking help insure that only the best olives are grown and harvested. We are certified Fish Friendly Farming and Green.
The olives are handpicked in December and pressed within 12 hours at Il Fiorello, a local olive press with a state of the art hammer press which insures the oil will be handled at under 85 degrees…The hammer press turns the olives (pits and all) into a paste, then separates the water from the paste and then the oil and solids are separated. This oil is unfiltered to prevent any loss of the delicate flavors.
We bottle a small amount of oil immediately and it is called "Olio Nuovo" or new oil. This is a cloudy, pungent oil that is a favorite with chefs for the spice and flavor present. The rest of the oil is allowed to settle and is bottled in April/March.
There are no labeling laws in the United States for olive oil so it is particularly important to look for the seal to insure what you are buying is in fact Extra Virgin Olive Oil. We have our oil lab tested for acidity and taste tested by a certified panel of experts to make sure it has no defects. Once it has satisfied all criteria it is then certified and sealed Extra Virgin Olive Oil. The seal in the US is the California Olive Oil Council (COOC) and internationally, the International Olive Oil Council (IOOC).
AlphaWOLF Olive Oil has won many medals and several gold. We have also won medals for label design.
We make a very limited amount of this olive oil (80-120 cases) and release it in April.