About Our Wines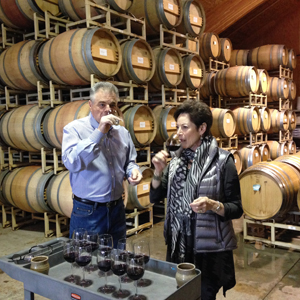 Eagle Eye wines are made by hand to have soft tannins so they may be enjoyed young. This approach makes a balanced wine that has complexity and structure and allows the wine to age beautifully.
We believe that 85% of great wine is made in the vineyard. In other words, you can only make great wine by starting with great fruit which is why Bill spends so much time in the vineyard making sure that each plant receives what it needs to produce great fruit.
All of our Eagle Eye wines are picked by hand, are hand made in small lots and aged in the best French oak barrels.
Our Cabernet Franc Rosé, Cabernet Sauvignon, Cabernet Franc, Petit Verdot and Proprietary Red Blends are made from 100% fruit from our AlphaWOLF Ranch.
Growing great fruit is very much science based. The soil and plants need to be scientifically analyzed during the growing season to make sure they have they correct nutrition they need at each stage of the plant development. This takes study, time and dollars to accomplish which is why it is so important that we use only the fruit from our vineyard. Over the last 15 years, Bill has develped a scientific nutritional program designed to farm our specific property. Because we have so many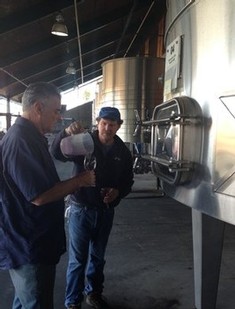 different soil types and micro climates in Napa Valley, it is essential to understand what works for your very own vineyard site. Remember, if you put 10 farmers in a room you will get 18 different opinions on how to accomplish the same goals.
We achieve our fruit forward style by allowing the grapes to hang longer on the vines to achieve maximum flavor development. Eagle Eye wines are a great example of balance. Balance allows our wines to go with a larger variety of foods and creates great food and wine pairings.
For details and specifics on each wine, go to our trade button and click on marketing materials for tasting notes on the wines in which you are interested.
John Gibson is our winemaker who has been making wines for 30 years for the likes of Stags Leap and Vine Cliff and many others. He makes our grapes into wine, babies the barrels and makes sure we get the best from our grapes. We keep each varietal separate during barrel aging. John, Bill and Roxanne, the wine making team, meet several times to taste and tweak the wines which spend 18 to 24 months in the barrel and 18 to 24 months in the bottle before release. Our blends are made from our core of what we grow, Cabernet Sauvignon, Cabernet Franc and Petit Verdot.