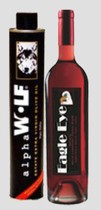 Summer Love Duet
This refreshing summer set includes one bottle of each:
2013 Estate Rosé
A very special limited production wines made from our Cabernet Franc. The nose is fragrant dark fruit, the mouthfeel is full and silky. The fruit is luscious ripe blackberry and raspberry and the finish is crisp and juicy.
AlphaWolf Olive Oil
2013 Gold Medal - California Olive Oil Council Competition
Green-gold, fragrant, velvety and is cold pressed just hours after harvesting the fruit. This is an exceptional oil, bottled in limited quantities, with low acidity and bright, fruity flavor and a slight hint of artichoke. The peppery finish is a product of the polyphenols which provide the healthy anti-oxidants as well as extend the life of the oil.