The About Our Olive Grove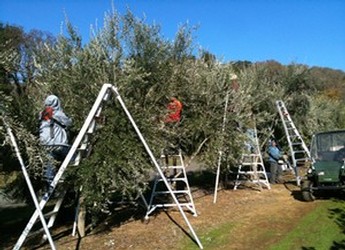 Tucked away in a beautiful cranny in the Napa Valley is a microclimate perfectly suited for growing delicious, fruity, rich, pungent olive oil. This is where Bill and Roxanne have chosen to locate the AlphaWOLF Vineyard and Olive Ranch.
This estate, extra virgin, unfiltered olive oil comes from 300 Tuscan varietal olives (second generation from Italy) which were planted in 2000. The varieties of Frantoio, Lecchino, Pendolino, Coratina, Maurino and Taggiasca have a history, in Italy, of making some of the finest oil in the world. The warm days and cool nights bring out that fruity flavor and peppery finish. The sustainable farming practices and hand picking

help to insure that only the best olives are grown and harvested. We are certified Fish Friendly Farming and Green.
The olives are handpicked in November and pressed within 12 hours at Il Fiorello, a local olive press with a state of the art hammer press. The press turns the olives (pits and pulp) into a paste. The paste is then pressed to extract the oil and bitter water. The oil/water is then centerfuged to separate the water from the oil. The oilive oil is then placed in 55 gallon barrels to allow the solids to settle out of the oil for a few months before bottling.
There are no labeling laws for Extra Virgin Olive Oil that are enforced in the United States so it is particularly important to look for the California Olive Oil Council (COOC) certification seal to insure what you are buying is in fact Extra Virgin Olive Oil. To receive this certification seat, we must send the oil to an approved labe to test the oil for the amount of acid, the level of Peroxide and to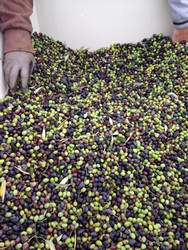 verify that it is 100% olive oil. The oil is then sent ot a panel of professional olive oil tasters who are looking for defects in the oil. Once the oil meets all criteria it is given the COOC seal of approval.
We bottle our oil in a black can that we chose specifically to protect the oil from light which can cause the oil to become rancid on the shelf. It is highly recommended that you do not purchase olive oil in a clear container that allows the light to break it down. Store your oil in a dark ,cool location.
AlphaWOLF Olive Oil has won many Gold medals for our oil and for label design.
We make a very limited amount of this olive oil (80-120 cases) and release it to our Wine & Olive Oil Club in May and December.