Who We Are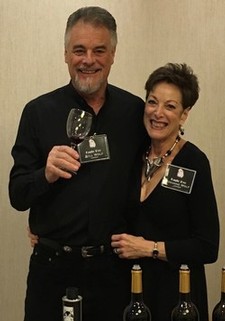 Bill & Roxanne Wolf live on and farm their 13 acre ranch in Napa Valley. They have completed over 75 classes at UC Davis, spent 35 days in Australia and New Zealand with the world wine expert Dr. Richard Smart, traveled for 10 days in France and spent 4 weeks in Tuscany to learn how other countries grow their grapes and olives. They are WSET Level 3 Advanced Certified wine experts, tasters and now know enough to be "dangerous!"
Roxanne has a strong sales and marketing background coming from her 25+ years as a real estate broker. During those years she refined her painting style. In 1998 she chose to start painting full time. Her style of painting moved from hard edge to whimsical. She then added nature and wine to her bold, colorful style. Her use of bright colors and her trademark of eagle heads on human bodies (wine event attendees with birds of prey heads) led them to develop their Eagle Eye wine brand. She designs all of the labels for the wine and olive oil lines. Roxanne has expanded her creativity into designing gemstone jewelry focusing on one of a kind necklaces and earrings.
Bill has worked for 40+ years in the food service industry. He was trained and worked as a chef in his early years and progressed to Vice President of operations when he left the ARAmark Corp. In the early 90's Bill started a golf tournament to raise dollars for the new Culinary Institute of America Greystone Campus in the Napa Valley. He has sat on the Napa County Farm Bureau board of directors, the California Olive Oil Council board of directors, the Suisun Creek Alliance board (environmental group established to save the creek behind his property) and he challenged an Alcoholic Beverage Control (ABC) law in California which resulted in passing Assembly Bill #323. The bill received an uncontested vote of approval in July of 2007 and was signed into law by Governor Arnold Schwartnegger. Bill was recognized at a ceremony and was presented a plaque signed by the Governor for his work.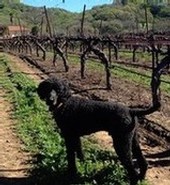 AlphaWOLF Vineyard & Olive Ranch is the name of their 13 acre ranch. They grow Cabernet Sauvignon, Cabernet Franc and Petit Verdot. AlphaWOLF Estate Extra Virgin Olive Oil is made from their Tuscan Varietal olive trees and is certified "Extra Virgin" by the California Olive Oil Council and bears the seal.
Their working vineyard dog is a Standard Poodle...Levi, "The Gopher King" who keep the wild turkeys, foxes, rabbits and other critters from consuming our bounty. Levi is in the latest edition of "Winery Dogs of Napa Valley."
Eale Eye Wine, It's a Party in your Mouth!