Wine Art
by Roxanne Wolf
There is not a person on the planet who sees exactly what another sees. Each of us comes from our point of view with our own unique set of influences that color our vision. Artists express themselves through their art. If it strikes a chord of resonance with the viewer, it taps into a moving emotion, one that is experienced on a deeper level... We become kindred spirits. As an artist, I want to share what I see.
My art evolves and changes as I do. My works have always reflected my surroundings. I am currently painting wine subject matter...Wine art. I love working in bold colors. Dramatic subject matter appeals to me. My medium is acrylic on canvas, oil on canvas, mixed media and chalk pastel on canvas and hardboard. I also have giclees on canvas.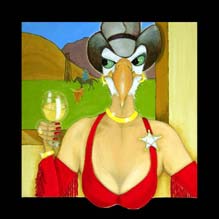 Since moving to the Napa Valley in 1989 from the east coast, I heartily embraced the lifestyle by attending wine auctions and events, visiting wineries, learning about wines and loving the ambiance. My husband and I became so enthralled that we decided to grow wine. Having always been an avid people watcher, I also became an avid birds of prey watcher while on our young vineyard. I began to see the wine event attendees' personalities merge with the birds of prey attitudes and my characters took flight. I have many "Life is too short to _____" philosophies and one is "Life is too short not to find humor everywhere."
I have been painting for over 30 years and have shown in selected art venues and juried shows, annually. I am the Eagle Eye wine artist. I am currently designing gemstone jewelry focusing on one of a kind necklaces and earrings. I have a home studio at AlphaWOLF Vineyard & Olive Ranch.