SAUSAGE EN CROUTE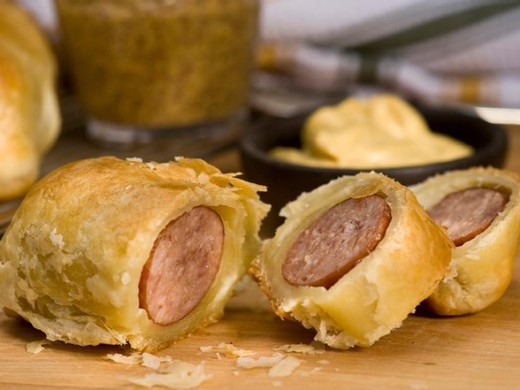 Measurements:
Imperial (US)
This is a great party recipe. It is always popular and goes quickly. It doesn't travel well, so I recommend baking it off at the party location. Use your favorite polish sausage. The richness and garlicky flavor of the meat is complimented by the flakey, crunchiness of the puff pastry. A mustard or barbecue sauce will add a tang, but be careful that it doesn't have too much vinegar (mustard) or sweetness (barbecue) that might conflict with the wine. Careful, this is addictive!
Ingredients
2 Puff Pastry Sheets
8 ozs Grated Parmesan Cheese
2 cups Fresh Basil Leaves or Herb of your choice
2 lbs Cooked Polish Sausage 2 total
1 Egg Beaten
1 tbsp Ground Black Pepper
Directions
Thaw pastry sheets and unfold.
On your board, sprinkle 1/4 of the cheese (2oz) and pepper.
Lay pastry sheet on the cheese and pepper and sprinkle the other 1/4 of the cheese and pepper on top of the pastry sheet.
With your rolling pin, press the cheese and pepper into the dough.
Lay basil leaves on dough to cover all but an inch along the sides.
Brush the beaten egg on the 1" edge all around the dough.
Place 1 sausage on one edge of the rectangle and roll it up in the dough.
Brush the dough with the egg where the seem meets and push together.
Fold the two ends in.
Repeat with the second sausage.
Please in the refrigerator for an hour or two.
Place sausage en croute on a sheet pan and bake in oven at 400 degrees for 30-40 minutes turning every 15 minutes until golden brown.
Serve warm with your favorite mustard sauce or barbecue sauce.
Serve with Eagle Eye Cabernet Sauvignon, Meritage of Petit Verdot.