GRILLED FOCACCIA PIZZA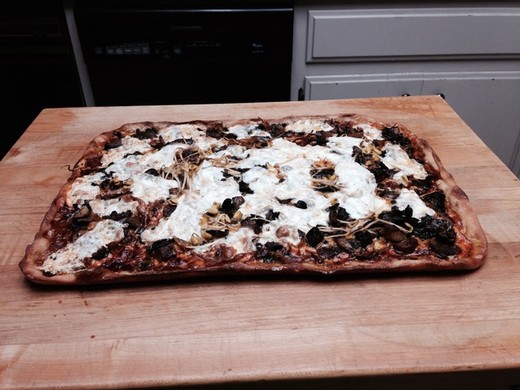 Measurements:
Imperial (US)
Ingredients
1 Focaccia Bread (try Trader Joe's) sliced lengthwise into 2 pieces
1 jar of your favorite Salsa (we like Angelo's Garlic Salsa from Sonoma) Mozzarella Cheese cut in thin slices
Provolone Cheese in thin slices
Grated Romano/Parmesan Cheese
Italian Salami or Pepperoni sliced
Fresh Broccoli cut into pieces
Asparagus cut into pieces
AlphaWOLF Olive Oil
Chopped fresh herbs like Basil, Tarragon, Parsley, Thyme
Salt & Pepper to taste
Red Pepper flakes to taste
Directions
Preheat the Grill to 500 degrees
Pre-cook Broccoli and Asparagus in microwave to desired doneness.
Brush top and bottom of bread with Olive Oil.
Spoon Salsa on bread until covered. A thin layer of sauce will prevent the bread from becoming soggy.
Lay on sliced Provolone until covered.
Place on Broccoli, Salami and any other toppings you prefer.
Cover toppings with sliced Mozzarella.
Cover Mozzarella with Fresh Mixed Herbs.
Sprinkle grated cheese mixture on top of herbs.
Put a couple more spoonfuls of Salsa on top pizza.
Turn one section of the grill to low and place pizza on that section.
Close grill and check every 5 minutes until it is crisp and the cheese is melted. Drizzle Olive Oil thinly over pizza right before slicing and serving.
This can also be made in an preheated oven at 500 degrees on a pizza stone. Serve with Eagle Eye
Infatuation.