ITALIAN HARVEST SAUSAGE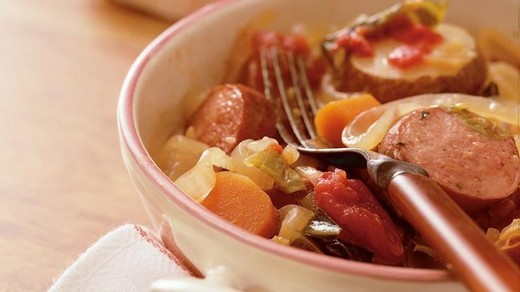 Measurements:
Imperial (US)
Ingredients
1 lb Hot Italian Sausage links
1 lb Sweet Italian Sausage links
5 Cloves Garlic- rough chop
1 Red Onion small - small dice
3 tbsps Infatuation Red Wine
1 Medium in 1" chunks Eggplant
1 1/2 lbs Seedless Red Grapes
2 Sprigs Fresh Thyme
12 Leaves Fresh Basil
4 tbsps Olive Oil
2 tsps Balsamic Vinegar
Salt & Pepper To Taste
Directions
Preheat oven to 500 degrees.
Wash grapes and cut half of the grapes in half and leave the remaining whole. Place grapes in roasting pan with 2 tsp of olive oil.
Brown Sausages in skillet with remaining olive oil. Do not cook through, just brown.
Remove and place browned sausages in roasting pan with grapes.
In the skillet in which you browned the sausages, add small amount of oil if needed and saute garlic and onions until translucent (do not burn).
Add 3 TBLS of Infatuation to skillet and stir to deglaze. Add to roasting pan.
Add Fresh Thyme and Basil to roasting pan.
Place roasting pan in oven un-covered for 25 minutes. stir half way through the cooking time.
Remove from oven when sausage is cooked and place on top of stove over 2 burners at medium heat.
Add Balsamic vinegar and gently deglaze pan and reduce for a few minutes.
Add salt and pepper to taste and serve as is, over mashed potatoes, rice or pasta.
Serve with Eagle Eye Infatuation