ITALIAN STYLE FRIED PEPPERS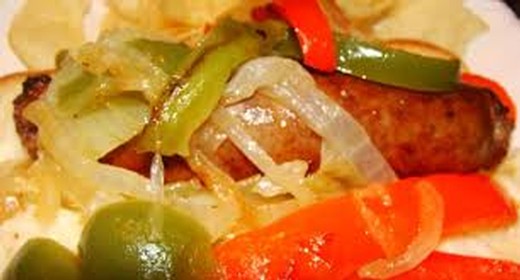 Measurements:
Imperial (US)
Ingredients
3 Green Bell Peppers
3 Yellow Bell Peppers
3 Red Bell Peppers
5 Anaheim Peppers
6 Jalapeno Peppers
5 Pastilla Peppers
6 Hot Banana Peppers
1 Large Red Onion
6 Cloves of Garlic
2 tbsps Fresh Basil
2 tsps Fresh Oregano
1 tsp Fresh Thyme
Fresh Ground Black Pepper and salt to taste
2 tbsps Olive Oil
Directions
Clean and de-seed all peppers. Cut into 1/4" julienne strips.*
Clean and slice onion.
Clean and thinly slice garlic.
Clean and julienne all fresh herbs.
In a large skillet add olive oil and onions. Saute for 2 minutes and add peppers and garlic. Cook the peppers in 2 or 3 batches rather than over crowding the pan. Salt and pepper to taste. Cook peppers until soft and add fresh herbs a minute or 2 before you remove the peppers from the heat.
If you want the mixture hot, add more hot peppers. For less heat use more sweet peppers.
*Clean peppers in a well ventilated area...The aromatics of hot peppers can be pungent!
Serving Suggestions
Our favorite is fried pepper sandwiches. Brush 2 slices of your favorite fresh, crusty Italian bread with olive oil. Add the peppers, sliced provolone or asiago cheese and top with fresh sliced tomatoes. Add a slice of avocado…Delicious.
The peppers are great on sausages, hamburgers, pasta or rice, in an omelet or topping any of your favorite salads.