OSSO BUCO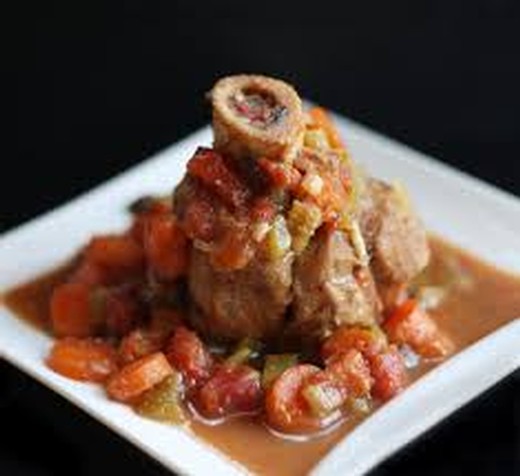 Measurements:
Imperial (US)
Ingredients
8 Veal or Lamb Shanks
10 cups Flour
4 ozs Olive Oil
1 cup Eagle Eye Proprietary Red Blend
4 cups Beef stock
1/2 cup finely chopped fresh flat parsley
3 Cloves garlic sliced
2 tbsps Dried Chives
2 tsps Dried Thyme
1 tsp Dried Oregano
2 tbsps Fresh Basil sliced
Salt and Pepper to taste
1 Large Onion sliced
2 Carrots cut in slices
3 Stalk Celery cut in crescents
2 Medium Tomatoes cut in wedges
Directions
Roll shanks in olive oil and season with salt and pepper. Coat shanks with flour and brown in remaining oil until golden brown. Remove shanks and set aside.
Add onion, carrots and celery to the same pan. Saute for 8 minutes on medium high heat. Add the cut up tomatoes to the mixture. Remove vegetables and reserve for later.
Add wine, beef stock, parsley, garlic, chives and bring to a boil. Place shanks in a roasting pan and cover with sauce and cook for 1 hour in a 350 degree F oven or until meat is tender.
Add vegetables to the roasting pan with thyme, oregano, basil and return to oven for another 15-20 minutes.
Serve with noodles or rice.