PRIME RIB with BLACKENED SPICE & CABERNET SAUVIGNON SAUCE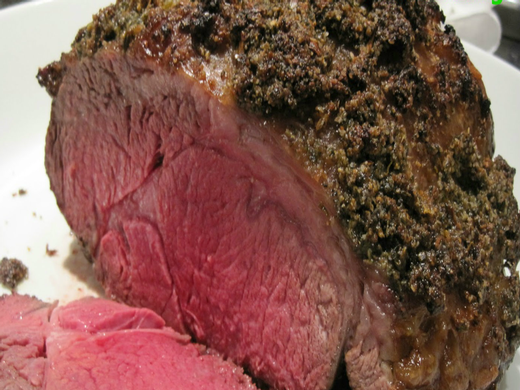 Measurements:
Imperial (US)
Ingredients
2 tbsps Salt
1 tbsp Dried Basil
1 tbsp Dried Parsley
2 tbsps Garlic Powder
1 tbsp Old Bay Seasoning

2 tbsps Turmeric
2 tsps Spanish Smokey Paprika Cabernet Sauce
1 tsp Red Curry
1 tsp Dry Mustard
2 tsps Black Pepper
2 tsps Ancho Chile Pepper
2 tsps Chipotle Chile Pepper
1 tsp Cayenne Pepper
2 cups Beef Stock*
Salt & Pepper to taste

2 tsps Butter
5 lbs Boneless Prime Rib with Fat Cover
2 cups Cabernet Sauvingon
2 tbsps Olive Oil
Directions
Preheat oven to 350 degrees Separate fat cover from the roast with a sharp knife. Punch 2 dozen holes in the top of the roast with a meat fork or an ice pick. Rub the entire roast with olive oil. Then rub the roast with the spice mixture. Put ¼ to ½ inch of the rub on top of the roast where you punched the holes. Place the fat cover back on top of the meat where holes were punched. Tie with string in two places surrounding meat to hold fat cover in place. Place in a roasting pan on a rack with fat side up and add 2 cups of red wine to the bottom of the pan.
Internal temperature will yield the desired degree of doneness:
Rare - 120 degrees
Medium Rare – 130 degrees
Medium – 140 degrees
Medium Well – 150 degrees
Well – 160 degrees

Once you remove meat from the oven take it out of the hot pan and place on a cutting board. Let rest for 10 minutes before cutting. Sauce Add beef stock to the drippings in the roasting pan and reduce by half. Whisk in butter slowly and serve sauce over sliced prime rib when ready.
*Beef stock made easy Purchase a soup base and mix in hot water. The best soup bases will list beef fat as the first ingredient, not salt. Paste forms are my favorite. Better Than Bouillon is one which I buy at Costco.