QUICK EASY ORANGE MUSCAT CHICKEN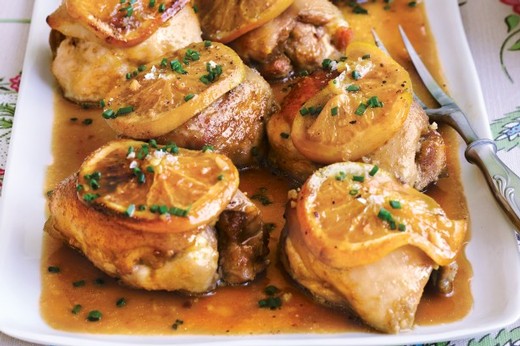 Measurements:
Imperial (US)
Ingredients
8 Boned Chicken Thighs (or Breasts) 
1/4 cup Eagle Eye Muscat Canelli  
1 tsp Red Curry   
1/2 tsp Smokey Paprika 
Salt and Pepper to taste
1 tsp Fresh Parsley 
Fresh Orange  juice of 1
Orange Zest  zest of 1
1 tsp Grape Seed or Canola Oil
1 tsp Butter
Directions
Directions
Mix curry, paprika, salt and pepper together. And rub on chicken thighs.
Place a skillet on medium-high heat and add oil.
Sauté chicken to internal temperature of 150 degrees or approximately 8 minutes on each side.
Wrap chicken in foil and set aside.*
Remove the zest from the orange and set aside.
Squeeze juice of the orange into the Muscat and pour mixture into the pan in which the
chicken was cooked. This is called deglazing the pan.
Reduce liquid by ½ on medium-high heat.
Add butter, parsley and zest to liquid.
Taste and adjust seasonings to your taste. If you like spicy, hot foods try adding a pinch of
Cayenne pepper.
Place chicken in the pan to warm up with the sauce and serve.
Pour this dish over rice, pasta, polenta or mashed potatoes.

Serve with Eagle Eye Muscat Canelli.

*Hint: Pull chicken off the heat when it is slightly pink on the inside. It will finish cooking
in the foil. This dish is best when chicken is moist and juicy.