ROASTED SHRIMP COCKTAIL WITHOUT THE COCKTAIL SAUCE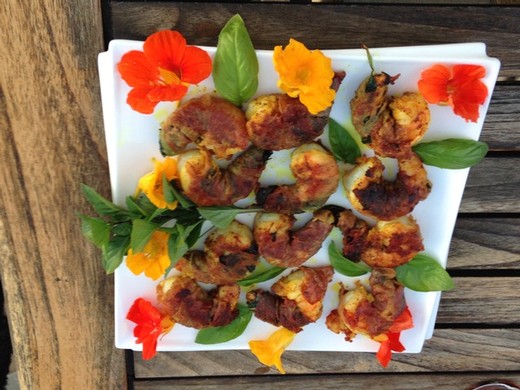 Measurements:
Imperial (US)
Ingredients
1 lb Peeled & Deveined Shrimp - 10 - 15 count
2 tbsps AlphaWOLF Olive Oil + extra for drizzling
1 tsp Chopped Fresh Parsley
1 tsp Chopped Fresh Garlic
1 tsp Chopped Fresh Basil
1/2 tsp Dried Thyme
Salt and Pepper to taste (I like a lot)
Directions
Put everything in a mixing bowl and toss well so that all the shrimp are coated. Pour onto a cookie sheet and roast in a 350 degree oven for 3 to 5 minutes. Place under broiler for 2 minutes.*
Remove shrimp from hot pan immediately and place on a cool platter.
Serve warm or let cool on counter for an hour (my preference). Drizzle with AlphaWOLF Olive Oil before serving.
*Keep an eye on the shrimp while they are under the broiler. They can overcook very quickly and remember when you remove them from the pan they will still continue to cook a bit.