ROASTED TOMATOES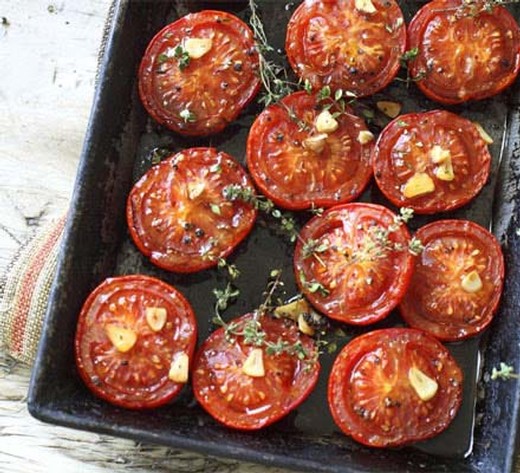 Measurements:
Imperial (US)
Ingredients
10 Fresh Tomatoes (or whatever fills a sheet pan)
1/2 cup Olive Oil
Salt and Pepper to taste
1 tsp Dried Basil
1 tsp Garlic Powder
Directions
Preparation
Cut tomatoes in half and place on a sheet pan.
Drizzle tomatoes with olive oil and sprinkle on the spices and herbs.
Place un-covered in a 200 degree overnight or for 8 to 10 hours.
Pull from oven and let cool.
Place cooled tomatoes in freezer container and freeze until ready to use. They will last in the freezer for 2 years.


Uses
*Your famous tomato sauce
*Roasted tomatoes as a side dish for meats or poultry
*On your favorite pizza
*Dips that use tomatoes like Salsa
*Mix with olive oil and garlic and use on pasta
*These tomatoes can be used in place of canned tomatoes

Think about using this process in the winter when the tomatoes you buy are not great. The roasting reduces the water in the tomatoes and concentrates the flavors.

Serve with Eagle Eye Wines.