SAUSAGE FETTUCCINI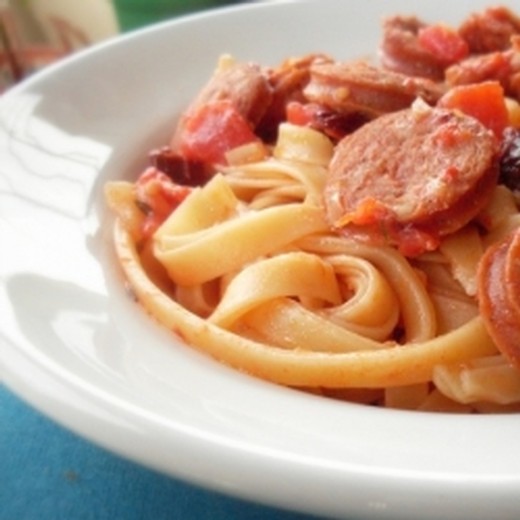 Measurements:
Imperial (US)
Ingredients
1 lb Italian Sausage (hot or mild)   
1 tbsp Olive Oil
1/4 cup Butter
2 tsps Fresh Garlic
2 tbsps Shallots, Finely Chopped  
3 cups White Mushrooms, Sliced  
1 cup Tomatoes, Diced   
1 1/4 cups Marinara Sauce, Prepared 
2 tbsps Tomato Paste
1/4 cup Fresh Basil
1 lb Fettuccini, Cooked Al Dente, Drained* 
Salt & Pepper to Taste
Parmesan Cheese to Taste
1 cup Eagle Eye Cabernet Sauvignon 
Directions
Remove Sausage from casings and cook in olive oil in a skillet over medium heat until
crumbled and brown.
Drain oil and remove sausage to a dish.
Add butter, garlic, shallots and mushrooms to the skillet and cook over medium heat until
tender and lightly browned.
Add wine and tomato paste and cook until reduced by 25%.
Add cooked sausage, diced tomatoes and marinara sauce to the pan and cook for about 30
minutes over medium heat stirring occasionally.
Add basil and salt and pepper to taste.
Add cooked fettuccini to sauce and cook for 1 to 2 minutes more.
Garnish with grated Parmesan cheese.

Serve with Eagle Eye Cabernet Sauvignon.

*Hint: Cook fettuccini until firm. You can finish the pasta in the sauce.