SAVORY CORN CAKES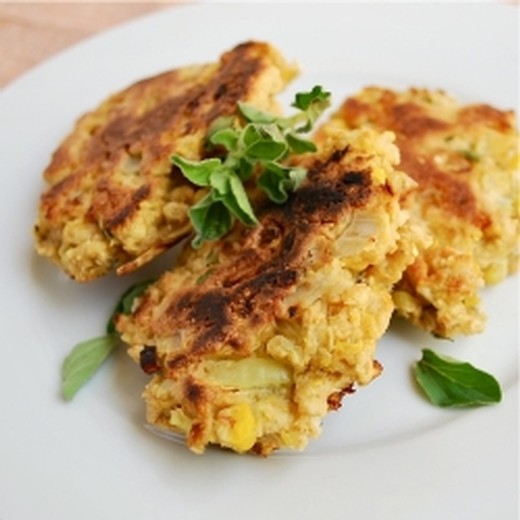 Measurements:
Imperial (US)
Ingredients
1 Recipe cornbread crumbled (I use 2 boxes of Jiffy Cornbread mix)
1 cup White bread crumbs (2-3 slices)
4 Ears of fresh corn cut off the cobs, about 2 cups
2 tbsps Butter
4 tbsps Shallots, Finely Chopped
1 Large fresh green pepper chopped
1/2 cup Fresh parsley chopped or 3 TB dried parsley
tsp Fresh Ground Pepper
2 Fresh garlic cloves diced or pressed
1 tsp Salt
1/2 tsp Cayenne pepper (more if you like heat)
3 lightly beaten eggs
1 cup Mayonnaise
4 1/2 tbsps vegetable oil divided
Directions
Combine crumbled cornbread and breadcrumbs in a large bowl and set aside.
Melt butter in a large nonstick skillet over medium high heat; add onions and peppers and sauté for 5 minutes or until tender.
Add corn and sauté for 5 more minutes.
Remove from heat and add to the breadcrumb bowl along with the parsley, pepper, garlic, salt, cayenne, eggs and mayonnaise.
Shape the mixture into 3 inch patties, about 1/2 cup each. If the mixture seems too dry for the patties to hold their shape you can add a little more mayo or put the patties in the refrigerator to set for about 30 minutes.
In a large nonstick skillet heat 1 1/2 TB. oil over medium-high heat.
Add patties leaving enough room to turn them.
Cook 2-3 minutes per side until golden brown.
Repeat this process until all the patties are cooked.
Serve warm.
These are so good you will end up eating them for breakfast the next morning.