STUFFED MUSHROOMS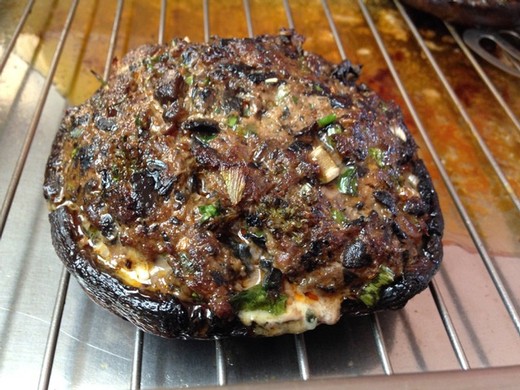 Measurements:
Imperial (US)
Ingredients
1/2 lb Ground Beef 90% beef/10% fat
1/2 lb Bulk Italian Sausage Hot
2 lbs Button Mushrooms or Brown Mushroom
1/2 cup Panko Bread crumbs
1/2 cup Parmesan Cheese
2 Large Eggs
1 tbsp Parsley Dried
1 tbsp Chives Dried
1 tsp Thyme Dried
1 tsp Basil Dried
1/2 tsp Oregano
1 tsp Salt
1 tsp Pepper
1 Small Red Onion Finely Chopped
4 Cloves Fresh Garlic Finely Chopped
4 ozs Olive Oil
Directions

Wash mushrooms and carefully remove the stems without breaking the caps. Set caps aside.
Chop the stems to a fine dice.
Place a frying pan on medium high heat and add 1 oz. Olive Oil.
Once oil is hot add onions and chopped mushroom stems.
Cook for 3 minutes stirring to prevent sticking.
Add 1 oz. more oil, then add garlic, parsley, thyme, oregano, chives, salt and pepper. Cook for 3 minutes more, constantly stirring, then remove from heat.

In a large mixing bow. add sausage, beef and cooked mixture of herbs and mushroom stems, eggs, 1/4 cup of bread crumbs and 1/4 cup of parmesan cheese.
Mix with your hands until thoroughly combined, but do not over mix.
Make a small patty, cook it and taste. Adjust seasonings if needed.
Stuff mixture inside mushroom caps. It should look like a meatball that is 1/2 mushroom and 1/2 meat mixture.

In a small bowl, add remaining 1/4 cup bread crumbs and 1/4 cup of cheese. Dip the top half of stuffed mushrooms in cheese/bread crumb mixture and place mushroom on cookie sheet.
Bake mushrooms in 350 degree oven for 20 minutes and them place under broiler to crisp top. You need to watch them closely under the broiler or they will burn.

Serve with Eagle Eye Cabernet Sauvignon Napa Valley.