WOLF'S MEATLOAF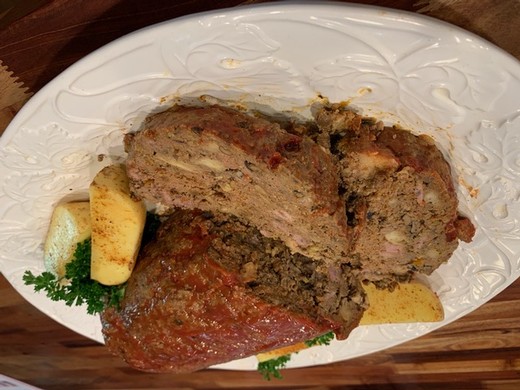 Measurements:
Imperial (US)
Ingredients
1 1/2 lbs Ground Beef (70% beef 30% Fat)
1 lb Ground Veal or Lamb
4 ozs Bread Crumbs
2 ozs Grated cheese (Parmesan or Romano)
1 lb Fresh Sliced Mushrooms
1 Egg (Large)
2 ozs Olive Oil
8 ozs Pancetta (can substitute Bacon) small dice
1 tbsp Black Pepper
1 tbsp Salt
1 tbsp Smokey Paprika (Spanish is best)
4 ozs Shallots (can substitute Onion) chopped fine
3 Cloves of fresh Garlic pressed
Directions
Preheat oven to 325 degrees.
Sauté sliced mushrooms, shallots and garlic in olive oil until tender.
In a mixing bowl add bread crumbs, grated cheese, mushroom mixture,
pancetta, pepper, salt paprika, parsley and egg.
Mix by hand until throughly mixed.
Add beef and veal and gently mix (over mixing toughens meat).
Place mix on sheet pan covered with aluminum foil.
Shape loaf and cook in join for 30-40 minutes.
Open foil and brown loaf under the broiler.
Let rest for 20 minutes before serving.
Serve with your favorite Eagle Eye Red!